BLONDEDOMGIRL
SMS notification
I want to receive a free one-time sms notification when BLONDEDOMGIRL is next available. My mobile phone number:
My statistics
| | |
| --- | --- |
| Number of callers: | 470 |
| Last online | 1 month ago |
About Me
| | |
| --- | --- |
| Region: | England - Yorkshire |
| Height: | 165cm |
| Weight: | 65kg |
| Hair color: | Blonde |
| Hair length | Very long |
| Eye color: | Blue |
| Shoe size: | 4 |
| Dress size: | 36 |
Call reviews BLONDEDOMGIRL
Rating





Average 5,00 from 5 Stars from 72 Ratings
All reviews come from verified calls to BLONDEDOMGIRL - so fake reviews are excluded!
At 30.10.2023 from Hard_Apollo





An amazing sexy woman. So glad she's back. She really makes me excited and turned on. Can't wait to speak to her again.
At 21.10.2023 from Anonymous





At 13.10.2023 from Anonymous





She's incredible and finished me so easily
At 13.10.2023 from Cuck W





Incredible to be your cuckold. Mistress is amazing. Highly recommend.
At 13.10.2023 from Anonymous





Worth every minute! Exquisite! Goddess! Sublime ! Has me every time!
At 07.10.2023 from Mayhem





She literally tore me a new arsehole on the phone. Attractive Yorkshire accent , professional domination . Never had a blast like this !
At 07.10.2023 from Anonymous





Incredible, powerful. Took total control of me
At 07.10.2023 from Seraph





Good god's it been far too long since we spoken, such an amazing session
At 05.10.2023 from Anonymous





Made me cum in less than 2 minutes
At 20.07.2023 from Ben





A Truly amazing Domm. Got right into my head and got me totally hooked
At 16.07.2023 from Anonymous





At 08.07.2023 from Anonymous





At 08.07.2023 from Ash





Incredible call with Mistress. She degraded me and punished my balls that were tied up for her and bulging after edging for hours. She took great pleasure in allowing me to finally release before making me lick it up off my fingers. Mistress is simply the best!
At 03.07.2023 from Chris





Wonderful. Mistress was beautifully cruel and abusive just like I needed and deserved. My quite specific kink was dealt with exceptionally well and my little penis has never been so insulted in all its life! Mistress let me wank and was even good enough to laugh at the noise I made while cumming. Perfection! Thank you Mistress.
At 30.06.2023 from J





Miss BDG was absolutely thrilling! Had such a good call. It was naughty and so much fun. Can't wait to speak again. Defo one of the best calls I've ever had. Thanks Miss. Xx
At 26.06.2023 from Anonymous





Possibly the best call ever. I asked for verbal abuse and my goodness I got it. In spades. And I couldn't have worded it better myself. I'm a bit speechless to be honest
At 26.06.2023 from P





At 26.06.2023 from Callum





Simply the best mistress is the most beautiful mistress and the most cruelest and has the best mind for fantasy play, I've made a twitter account to be able to follow my goddess
At 25.06.2023 from Michael





Good lord what a mistress Knew exactly what to do
At 25.06.2023 from Paul





At 25.06.2023 from Anonymous





At 25.06.2023 from Anonymous





At 24.06.2023 from Anonymous





Amazing call, so good at what they do!
At 01.02.2023 from White boi Sissy slut Char





My owner once again laughed as she made me torment my nipples and gag with throat treatment.. need to visit and earn her money as her sissy slut cum dump in severe bondage
At 23.01.2023 from Anonymous





Very well spoken, very engaging, took my specific interest and made me feel like it mattered, that it was in many ways mutual. Very authentic, very lovely, very worth your time
At 08.01.2023 from Sissy white boi Charlotte





My owner once again laughed and instructed me what to do with my pathetic chained up body clad as a sissy slut having complete control over me once again
At 08.01.2023 from Humiliation Addict





Thank you so much Mistress Sophie! You are without a doubt the most talented, passionate and downright sadistic Ladies in the whole of England. Your sharp tongue is as lethal as it is creative. Thank you for your time, and for putting me in my place.
At 05.01.2023 from Anonymous





Best CBT session I've ever had. Amazing.
At 05.01.2023 from Anonymous





Pure class, shows amazing intuition, perfect mistress !
At 05.01.2023 from Frankie





At 03.01.2023 from Sissy slut white boi Char





Totally abused used and humiliated for mistresses pleasure looking forward for instructions on how to please my owner on the next call … I'm a pathetic bitch mistress
At 02.01.2023 from James





Brilliant call with mistress!
At 02.01.2023 from Toni





Fantastic call with Mistress. Knew immediately how to get into the head of her smoking slut. Had me exploding into my panties and cleaning them for her amusement. Thank You Mistress.
At 02.01.2023 from James





Stunning lady who'd get an invite to my wedding before my pathetic fiancé
At 30.12.2022 from Slave w





Huge thanks Mistress for letting me be your cuckold. Highly recommend. Will try and last longer next time Mistress.
At 30.12.2022 from BD





Amazing phone call, can't wait to talk again
At 30.12.2022 from Anonymous





At 28.12.2022 from Martin





Every call is amazing. Dominant and beautiful lady
At 04.11.2022 from Jac





Had a joi experience and na experience it was !!! Very demanding in just the way I wanted
At 20.10.2022 from loopdog





At 25.09.2022 from L





Holy shit, when I rang her yesterday I wasn't quite sure what I wasn't getting myself into but wow. One of the best phone calls I've ever had. Even though I live a fair distance away I'm still very tempted to go for a real life session with her.
At 21.09.2022 from Matt





Gorgeous Yorkshire accent. She knows how to make you feel good. Give her a call.
At 21.09.2022 from Slave I





Absolutely amazing JOI countdown and fantasy session, amazing Mistress but wonderfully friendly and candid too - simply the best! Wish I hadn't waited so long to call her now…. Xxx
At 18.09.2022 from Sissy slut Charlotte





Omg must visit my owner for a live session totally worship this goddess and submit completely to her every command
At 16.09.2022 from FirstTimeCucky





Mistress Sophie is unreal. her accent, enthusiasm, and dominant personality is mindblowing.
At 15.09.2022 from Matt





Excellent chat about race play
At 13.09.2022 from Sissy Paul





Excellent call with Miss Sophie, look forward to what session number 2 of my sissy training will entail!
At 13.09.2022 from BlondeDomsSissy





I had an amazing first call with this mistress on Friday! Don't let her sweet voice fool you. She's full of surprises and treated me like an inferior sissy, just what I needed. I'll definitely be calling again!
At 11.09.2022 from A





Miss has the mostly wonderful voice and everything you would want from a call.
At 11.09.2022 from El Guapo





Even if you're not into it, you'd be her full toilet. Excellent imagination, which most on here lack
Comment from BLONDEDOMGIRL:
Yes Yes ????????
At 07.09.2022 from J





Incredible chat,knew exactly what a whore I was and treated me accordingly.Highly recommended and can't wait to talk again.
At 03.09.2022 from Sissy slut Charlotte





Omg nothing compares.. mind/cock blowing
At 30.08.2022 from Naughty pup





The BEST
Comment from BLONDEDOMGIRL:
Great to have you back ????
At 27.08.2022 from Maz





Sophie is cunning amazing. Has a very soothing voice and is very passionate on her approach. Pick up the phone and call her. Forget about the other mistresses on here.
At 25.08.2022 from Ian





Thank you mistress for beating me, pissing on me making me take your studs spunk & humiliating my tiny cock
At 24.08.2022 from John





No review text entered
Comment from BLONDEDOMGIRL:
Must of left this guy speechless LOL
At 24.08.2022 from Pete





Amazing mistress, had me make a mess of my wife's knickers. I will be back for more.
At 22.08.2022 from Foot sissy sub





Had to go abruptly but just the most amazing call. Asserted her dominance over me quickly and effortlessly and kept my cock rock hard throughout the entire call. I hope we session in person one day!
At 18.08.2022 from J





Guys you don't wanna miss out! Defo give Miss a call you won't be disappointed. It was a great experience, we laughed, we explored things and it was really naughty. I'll defo call again. Thanks Miss!
At 17.08.2022 from M





An amazing introduction, thank You, Mistress
At 10.08.2022 from Slave M





Wow what can I say about Mistress Sophie, she is so powerful, dominant and stunning. She knows exactly how to degrade and humiliate her slaves and I can't wait to speak to her again and also serve her in a session.
At 18.04.2020 from MattS





Roses are red, Violets are blue, And this girl's a sex addict just like me. A wonderful chat as ever.
At 01.04.2020 from MSxx





Clearly an aesthetically pleasing girl, and from what little I know of her it appears her mind is as sexy as her body.
At 01.04.2020 from Glasgow





Great little introductory call cant wait to meet Mistress
At 14.03.2020 from Flexy slut





Mistress Sophie put this sissy in her pace, fucking her in the splits whilst gagged with Her beautiful dirty panties. Will definitely be continuing my sissy training with this Goddess.
At 24.12.2019 from Slave d





Oh my what a great time the quickest relief I have ever had she is amazing
At 19.12.2019 from SubRichie82





What an incredible Mistress
At 17.12.2019 from Slave A





I had an amazing time serving Miss Sophie, she is a very powerful mistress and I'm already excited for our next session
At 15.12.2019 from Catamate





Mistress was quite sweet and caring, sort of a getting to know you session, full of promise although I'm sure she has her bitchy side I hope!
At 11.12.2019 from Sissy panty sniffer





Mistress is amazing she humiliated me and made cum in knickers and taste it
At 04.12.2019 from Sissy slave





Mistress turned me into such a naughty sissy and made me eat my spunk from my panties she is amazing
At 23.11.2019 from Anonymous





Mistress made me finish in a couple of minutes she's amazing
Rate your call with BLONDEDOMGIRL
Photo "Laughing at your tiny little penis" by BLONDEDOMGIRL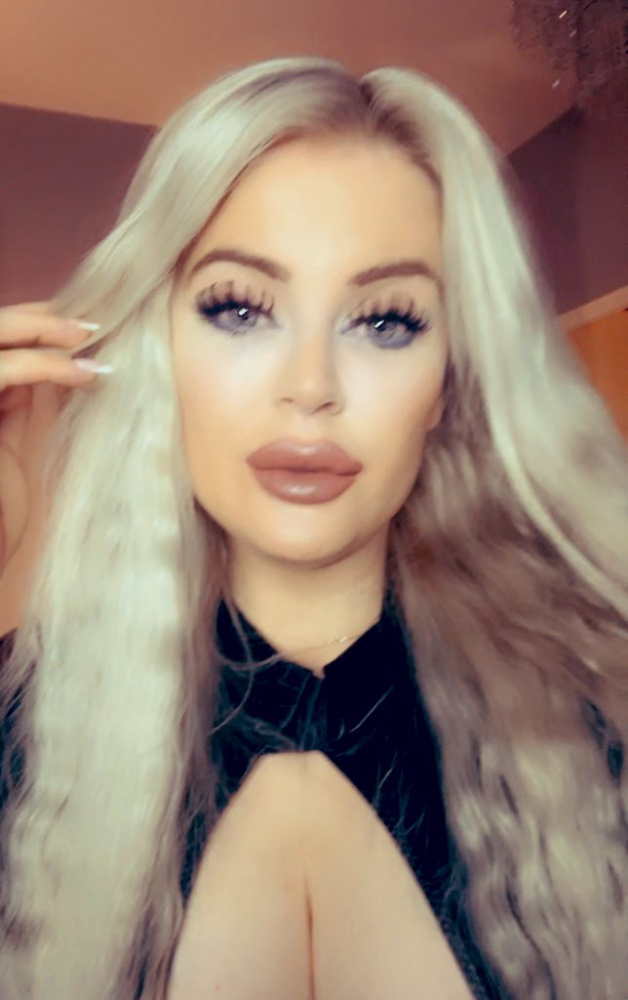 Small Penis Humiliation is 1 of my favorite kinks I am a mean, nasty, brat & I'll de-masculinate you even more than your tiny little clit cock does